Paintless Hail Damage Repair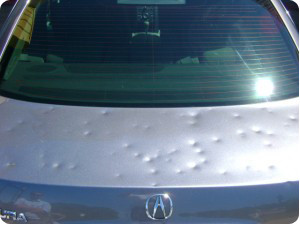 At Regal PDR Solutions we pride ourselves in offering the best customer service possible and employ a paintless dent repair process that is based on efficiency, quality, and affordable dent removal. For over ten years we have been providing top quality paintless dent repair and has pioneered some of the landmark achievements in the industry.
All customers receive the best customer service in the industry and a lifetime warranty on all repairs; please call with any questions about paintless dent repair for you car or truck 855-734-2573.
Catastrophic Hail Storm Response for Insurance Companies
Regal PDR Solutions provides an option for insurance companies to offer their affected customers a reliable option for restoring their vehicle to pre-storm condition with a lifetime warranty.
We employ the best technicians in the industry and have the ability to "scale-up" to handle any size storm with an experience staff of over 100 pre-approved independent pdr technicians.
We have mobile pdr units that will set up in storm affected areas to write repair estimates and handle your customers concerns.
Regal has the ability to handle multiple cities and suburbs with company owned Response Units and a contract for renting additional Response Units when a multitude of cities experience a catastrophic hail storm.
Regal PDR is bonded and insured to repair vehicles with assurance for a trouble free relationship.
When the storm response is over, full warranties are provided and honored; we value our reputation and will help your company maintain it's reputation as well.
Hail Damage Repair for Auto Dealers and Body Shops
Regal PDR Solutions provides an option for traditional body shops to offer their affected customers the option for restoring their vehicle to pre-storm condition without subjecting the vehicle to standard repair options. This provides a benefit to your customers while helping your business expand its ability to handle more cars, more customers and more revenues. Our mobile PDR Units are also great advertising and will attract customers that you would not otherwise gain. We employ google and yahoo advertising in affected areas and have the ability to forward our toll free phone numbers directed your phone lines to drive additional business.
For auto dealers – we offer the ability to get your sales back on track after a catastrophic hail storm in a fast and efficient manner. We only employ the best technicians and offer volume discounts when large numbers of vehicles are involved. We are bonded and insured to handle large fleets and have the experience that newer companies lack in dealing with catastrophic response.
Paintless dent repair or paintless dent removal, both known as PDR, is the fastest and most consistent way of removing small dings and medium sized dents from automobiles. PDR is the process of removing dents by pushing, pulling, and manipulating automotive body panels back to factory look and specs with the use of specially designed tools and without the use of harsh chemicals, paint or body filler.